CrossMatch™ Plates
CrossMatch™ Plates brings precision and control to the highly variable digital plating process, whether printing with stochastic or conventional screening. It verifies the accuracy of plate curves and ensures that the linear scale or plate curves match press conditions, so you can meet and exceed your printing quality standards.



Plates Product Options:



PlateCheck


PlateCheck XM



CrossMatch™ Plates extends the statistical process control capabilities of ColorSciences' PlateCheck with online monitoring, corrective action, and support services to make sure that you never take a bad plate to press.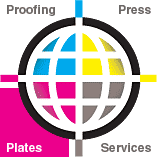 CrossMatch™ Plates is part of ColorSciences global CrossMatch™ Enterprise Solution that enables the production, delivery, and approval of contract-quality inkjet proofs.